Air Compressor machinery Manufacturer In Ahmedabad
We are the leading Air Compressor Manufacturers in Ahmedabad and also the Air Compressor Supplier in Ahmedabad. Our company have an experience of more than decades in manufacturing and supplying of the air compressor.
Our company provides the premium quality air compressor that is manufactured using the superior quality raw materials and are as per the latest standards which makes them favourable to be used worldwide. These compressors are available in different variants, operating power of 7 to 100 HP, max flow rate of 30 to 500 CFM, pressure of 6 to 12 bars and can be selected as per the requirement. Besides, they have modern concept suction control system, intelligent PLC control panel, maintenance free transmission system, highly efficient intake filter system, automatic control box, multi stage oil separation system, high security features, etc.
Features of Air Compressor
The features of the Air Compressor are as follows
Superior quality air compressors
High efficiently
Energy saving operation
Eco- friendly nature
Compact in size
Easy installation
Simple operation
Low operating cost
Highly secure
Requires less maintenance
Less noise while operation
Non corrosive body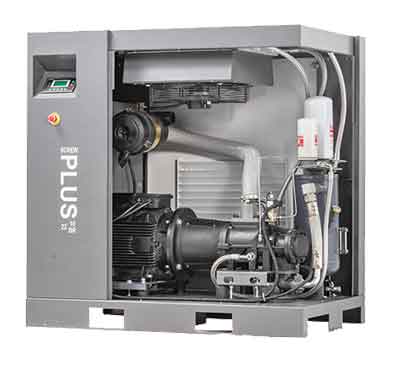 Air Compressor in India
These Air Compressors after passing the quality assurance testing are supplied and exported worldwide. The designing of the compressor is made using the latest technology machinery and are as per latest international trends which promote their operation using less amount of energy and are also environment friendly as they don't cause pollution.
If have any requirement related to the Air Compressor and its Spare Parts than freely approach us. Kindly, call us or contact us for more details.